What's new in Pausly, March 2023
Sunday, March 5th, 2023, 08:18
As usual, we introduced plenty of features and improvements last month. The main focus was to add organization features but that is by far not the only thing we changed. So let's get to it!
Streaks 🔥
We continued working on our streak system and simplified it a lot. They are now based on your local time. As long as you do at least one session, every day from Monday to Friday, between 00:00 and 24:00 you'll keep your streak. You can read all about it in the dedicated blog post about the new streak system.
New profiles 😍
It's hard to miss: we have new profiles and profile badges! Every profile has a unique username, as well as a color and an emoji. This helps you identify accounts more quickly and allows you to give your profile more personality.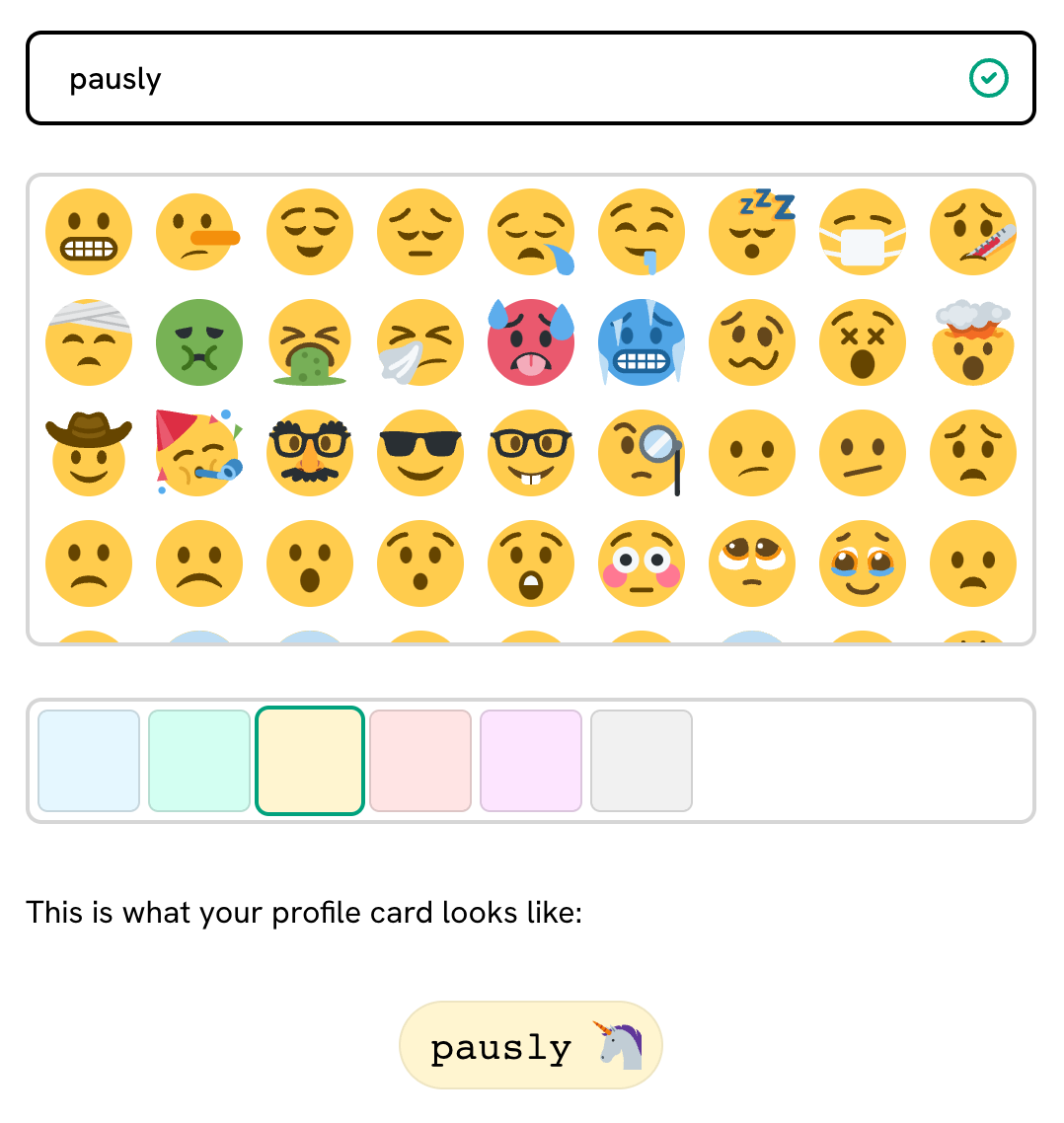 The username is also used in the URL so when you send your profile to somebody not only does your page look good, the URL does as well (who doesn't care about that?!).
New profile pages too!
Now that we have such nice profile badges, we also spent some time on the profile pages themselves.
We now categorize the different outfit types and list them in the correct order. We also improved the visual highlights when an outfit is equipped.
The achievements are also grouped by type and it's much easier to see which outfits have already been earned.
Streak reminders ⏰
It happens to the best of us: we're on a 30+ streak, collecting our streak flames, only to wake up in the middle of the night, soaked in sweat, realizing that we forgot to do a session today! Well… not anymore! Pausly will remind you in the afternoon if you're about to lose a streak.
Organizations 🏢
We added our first organization features! When you sign up for a Pausly organization account, you get an organization page. On this page you can manage the settings and create teams if the organization exceeds a certain size.
Employees can easily join a Pausly organization by simply clicking the "Join" button
If users are signed in with a matching email domain (for example @your-company.org) they can join with the click of a button. If they don't have a matching email address, they can request a confirmation email, if they own a valid email address but don't use it on Pausly. If they also don't have that, an organization admin can always add them manually.
Share sessions more easily
An organization allows users to share sessions conveniently with their colleagues. When creating a session, the user can choose to share with the organization, or, if the organization uses teams, to a team they belong to in this organization.

Recurring sessions
An organization can create recurring sessions. You can create a recurring session that repeats every hour or one that repeats every day at the same time. These are URLs that don't change over time and can be added to calendar events. For example, you can create a recurring session called "weekly" that starts at 9.55am and add to the comments of your weekly calendar event that starts at 10am. This way the team doesn't even need to share a session URL.
MS Teams, Slack and Discord integrations
Organizations also get special integrations for common chat software. When you add the Pausly bot, you'll be able to specify which channels Pausly should send notifications to. In addition to that, the bot will ask every member of the channel whether they want to receive personal notifications as well.
Note: MS Teams notifications are already finished, Slack & Discord will come later this month.
If you're interested in these organization features, contact us to get a quote and we'll get you started
New movements
Four new movements have been added this month and they all revolve around the same topic: wrist and forearm health.
We hope you'll enjoy them and they'll help you avoid common issues like carpal tunnel syndrome.
Additional improvements 💅
We cleaned up the settings page and introduced tabs! In the same process, we cleaned up the friends page, which was a bit of a mess before. Overall it's a much friendlier experience. We are constantly adding new features and settings to the service, so we knew that we needed a future oriented solution.
All emojis on Pausly (profiles & reactions) have been replaced with uniform images. Previously they simply used the device emoji which look different for everybody.
When receiving an outfit (or when on the profile page) it is now clearer that the user needs to click the outfit to equip it. We've also improved the design when outfits are selected.
We improved the registration flow and made sure that it is as fast and smooth as possible.
Fixes
If the user kept the browser open after doing a session, and then navigated to another session, sometimes the session appeared to be joined although the user never actually clicked "join" which resulted in the session not counting for them. This is now fixed.
---
That's it for now. 😅 We've got plenty of things planned for March so stay tuned!
Keep healthy and happy pausing