What's new in Pausly, February 2023
Tuesday, January 31st, 2023, 20:50
Another month went by, can you believe it? It always feels like it happens in the blink of an eye, that's why we enjoy writing these summaries so much. It's a good retrospective to see and celebrate everything that we accomplished.
Overhauled streak system 🔥
We recently made some big changes to our streak system and this month we refined it a bit:
You get more information about your streak and your collected streak flames on your profile page now.
While you are building up to a 30+ day streak, the amount of days you already have will be displayed next to the flame icon.
Once you reach a 30+ day streak, we swap out the days with the amount of streak flames collected. Reminder: you start collecting streak flames for each day that you maintain a streak of 30+. If you break your streak, you start the streak at 0 but you keep all your streak flames. So once you reach 30+ again, your previously collected streak flames will appear again.
We will continue refining this over time, but we feel that we are gradually improving it.
Better achievements layout 🏆
The achievements on profile pages have been kind of a mess. We spent some time tidying this section up. It's now easier to understand which achievements are grouped together, what you are currently working on, and which ones you already received.
Improved emails 💄
There are quite a few situations in which Pausly needs to send you an email: registration, password recovery, magic link sign in, and when you want to change your email address.
Our initial email implementation was very basic. With the beta release of Pausly we got more and more feedback that emails landed in SPAM however. We spent some time working on improving the delivery of emails and in the process made sure that they also look nice.
We hope that you'll enjoy seeing them next time you receive one. 😊
Thanks to everyone who reported that they didn't receive their email! Your feedback is really important for us to build a good service.
New movements & outfits
As usual, we have added a few new movements:
and a few outfits. You will have to find out which outfits are new yourself :)
Pricing page
We are in contact with more and more companies to discuss licensing and see what features can make it even better suited for them.
We felt that it was time to be a bit more specific about it, that's why we added a Pricing page. It's still early days and we negotiate with our first clients on a case by case basis, but now the rules around licensing are clear.
SvelteKit Showcase 🤩
Pausly has been chosen as one of the showcases for SvelteKit! Visit kit.svelte.dev and scroll to the bottom to see it.

(SvelteKit is the framework that Pausly is built with).
Faster, Stronger, Better 💪
Pausly is now faster, more accessible and discoverable. We have spent a few days optimising the experience, and the pagespeed.web.dev report agrees with us: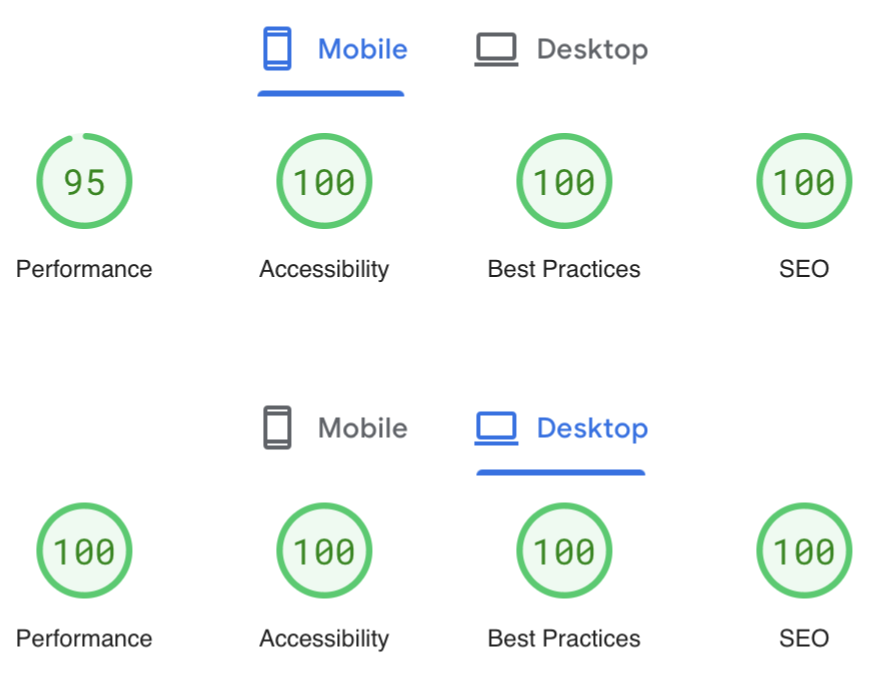 New mobile menu 📱
We implemented a new mobile menu that looks a bit more interesting and has a nice animation. Try it!
We spent some time to make sure that it works well in every situation and is fully accessible. Which brings us to the next update:
First developer post 🤓
We wrote our first developer post about our new mobile menu: Accessible hamburger buttons without JavaScript. This post alone attracted over 15.000 people to this website. If you're using Pausly because of it, hello 👋 and welcome.
Although Pausly is meant to be used by everyone, we ourselves are primarily a software company. That means that we solve developer problems and like to write about it to share our knowledge.
We will be writing more of these, but there are plenty of other topics that we plan on writing about.
That's it! Thanks for reading. Stay healthy and happy pausing.